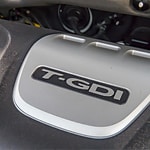 The all-new Hyundai Elantra is back in business, and it possesses a lot of style. This compact car appeals to people of all age groups because it offers so many wonderful benefits. Hyundai has outfitted this car with new technologies. There are also a number of trims that are available, including the SE, SEL, and Value Edition.
From a performance standpoint, the new Hyundai Elantra provides practical power. There's a 2.0-liter engine that delivers 147 horsepower. In addition to that, consumers can opt for the 1.4-liter turbocharged engine. Horsepower comes in at 128, but drivers will receive on-demand acceleration. There's also a larger 1.6-liter engine that's turbocharged. This four-cylinder engine will produce as much as 201 horsepower. Thanks to the car's small size, its maneuverability is nearly flawless. Good amounts of gas mileage are also available.
Would you like to test drive this machine? Our reps are welcoming all sedan lovers, so swing by our location today.