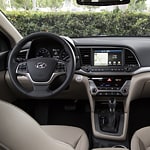 While there may be many cars available for you to buy today, the Hyundai Elantra is the one you will want to strongly consider parking in your garage. In addition to providing so many features at such a low price, this is a sedan that your entire family can feel proud to own.
There are several different engine options that you can choose from, including one with an Eco feature. This one is a 1.4-liter engine with four cylinders. It is turbocharged and gives you 128 horsepower under the hood. That is just one of the options you can choose from.
You will also love the look of the interior cabin. It is elegant and contains all of the modern luxuries that you can hope for. You can also add upgrades to the Elantra that will further personalize the interior to your liking.