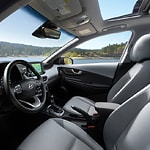 The Hyundai Kona might be the newest kid on the block, but this is an SUV that has a lot going for it. For one thing, it has some awesome handling features that will make you the envy of everyone in your neighborhood. When it comes to handling of the Hyundai Kona, we here at Twin City Hyundai love to bring up the following:
Remarkable Ability to Change Direction
The Kona can change direction in a remarkably smart fashion, and they do it much better than the C3 Aircross and the Renault Captur. The Kona will grip well and will keep the wheel upright even through the sharpest of turns. You see, the Kona benefits from having engineers with a strong physics background.
Precise Steering
Of course, we here at Twin City Hyundai realize that there is no small-size SUV that will handle quite as well as a traditional hatchback, but the Hyundai Kona comes pretty close. They are able to handle all kinds of different terrain.
Come to our dealership today and take a look at the Hyundai Konas that we have in our showroom. We think that you will be as impressed as we are regarding these new models!