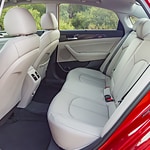 The latest version of the Hyundai Sonata checks all the boxes when it comes to interior amenities. If you're ready to learn more about this popular sedan model, the current line-up is available for test driving right now at Twin City Hyundai.
The Sonata's cabin was designed to be uncluttered, aesthetically appealing and equipped with everything that you and up to four passengers need for safe, pleasant traveling. There's also abundant hidden storage throughout the seating area that allows you to keep a wide range of personal items and necessities close at hand.
Whether you like the comfort of heated seating, the convenience of wireless device charging, the luxury of leather-accented upholstery or all of the above, you can have it in a Sonata. Depending on which version you select, you'll find an eight-inch or 10.25-inch touchscreen that provides access to important information and control features on board as well.