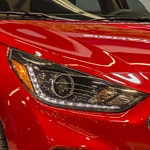 The Hyundai Accent is a unique compact car with a great amount of style. It also comes in three trim levels. The trims are SE, SEL and Limited. How can Alcoa, TN shoppers decide between the SE, SEL and Limited trims of the Hyundai Accent?
Each of the Accent trims comes with the same 120 horsepower engine by Smartstream. It is a four-cylinder 1.6-liter engine. The fuel economy on these trims, however, vary a bit. The Limited and SEL trims, for example, can achieve a combined MPG of 36. The SE's combined MPG, on the other hand, is 33.
The Accent SEL's touchscreen is larger than the SE's. The former is 7 inches, while the latter is 5 inches. The Accent Limited trim includes 17-inch alloy wheels, while the SEL Accent trim includes 15-inch alloy wheels. Regardless of the trim, Twin City Hyundai expects buyers will be satisfied with the Hyundai Accent.