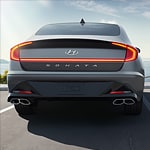 Hyundai designed the 2023 Sonata with your safety in mind, as it is outfitted with several driver assistance features. From Blind-Spot Collision Warning and Rear Cross-Traffic Collision-Avoidance Assist to optional Forward Collision-Avoidance Assist with Pedestrian Detection system, this car has you covered no matter what comes your way on the road. It's time to experience peace of mind while driving, choose the 2023 Hyundai Sonata now! With an array of advanced sensors that give 360° coverage around your vehicle so that no blind spots are left unexplored, you can feel confident and secure while driving your Hyundai Sonata.
Additionally, if a collision does occur, the Hyundai Sonata here at Twin City Hyundai has proven its effectiveness at providing occupants with the utmost protection, thanks to its advanced six-airbag system. With the Hyundai Sonata, you can be sure that you and your family are always safe wherever your journeys in Alcoa, TN may take you.
The 2023 Hyundai Sonata is designed to ensure its occupants stay safe, with ultra-high-strength steel construction that provides a higher level of rigidity and impact protection in the case of an accident. This advanced technology protects passengers from severe injury or harm during a collision, giving them the confidence needed while driving on any road.